Now that we've officially started on our farming adventure we've been taking every opportunity we get to talk to farmers of all sorts.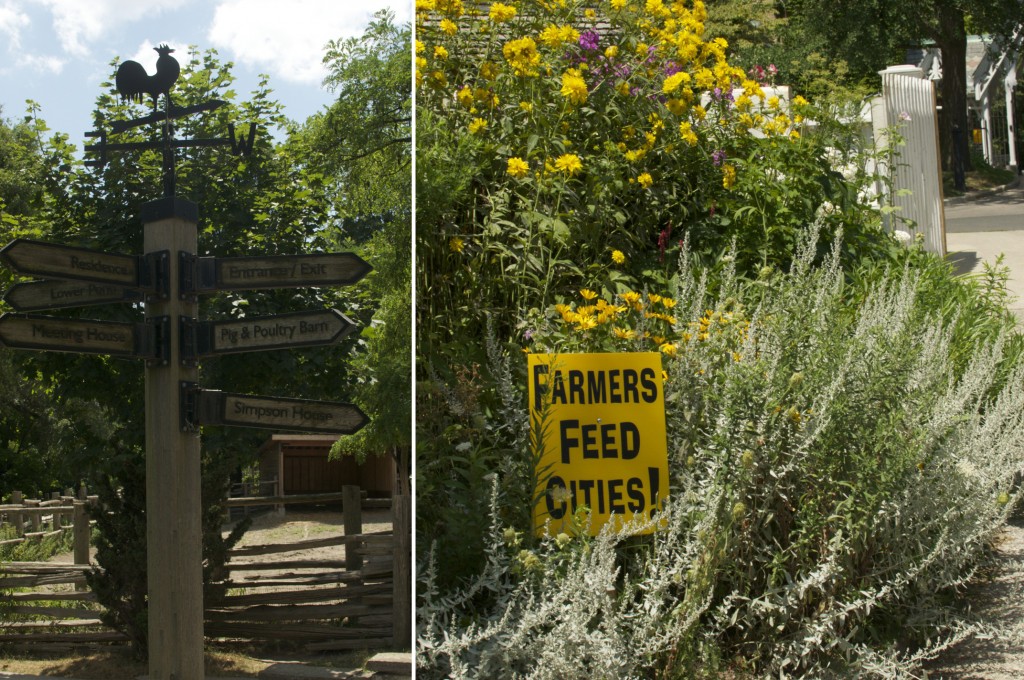 So when our family was recently invited to meet some Ontario Farmers at Riverdale Farm as part of #freshfromthefield the answer was a definitive yes. Farmers that actually wanted to talk to the city girl and wouldn't laugh at my need for a goat or two? I was so in. The fact that it was at Riverdale Farm, possibly my favourite place in the whole city of Toronto really sealed the deal.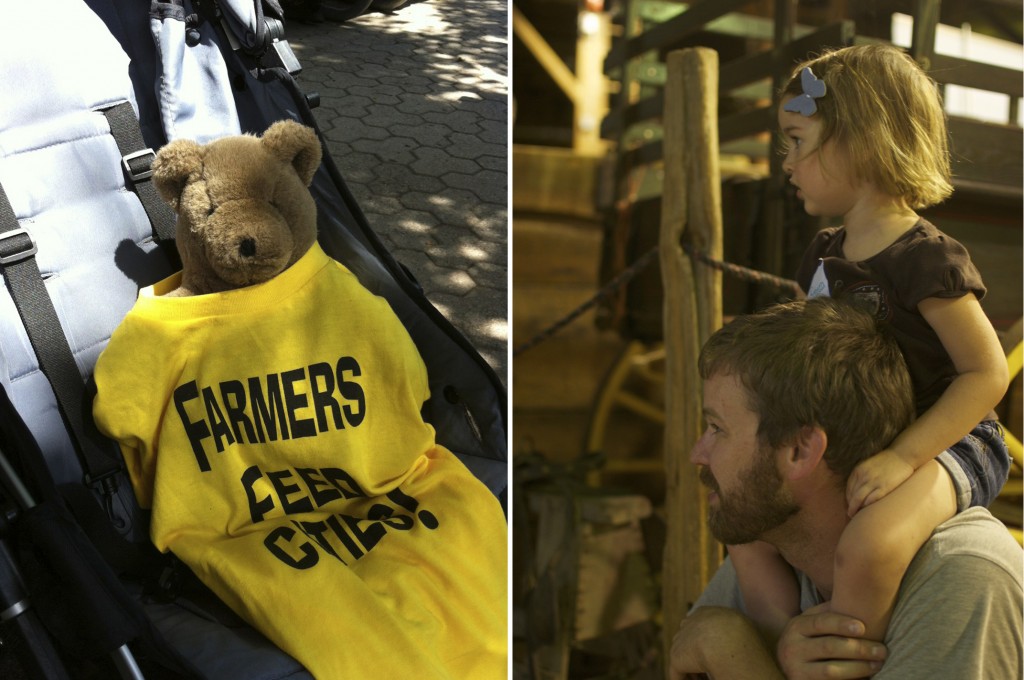 The day was put together by Farmers Feed Cities, who are an organized group of Ontario farmers advocating for sustainable farming and consumer education. Although our own personal food philosophy has a stronger emphasis on organic produce and smaller scale farming I'm in full agreement with the importance of educating the public about where their food came from and making personal connections between farmers and the people who eat and use the fruits of their labour.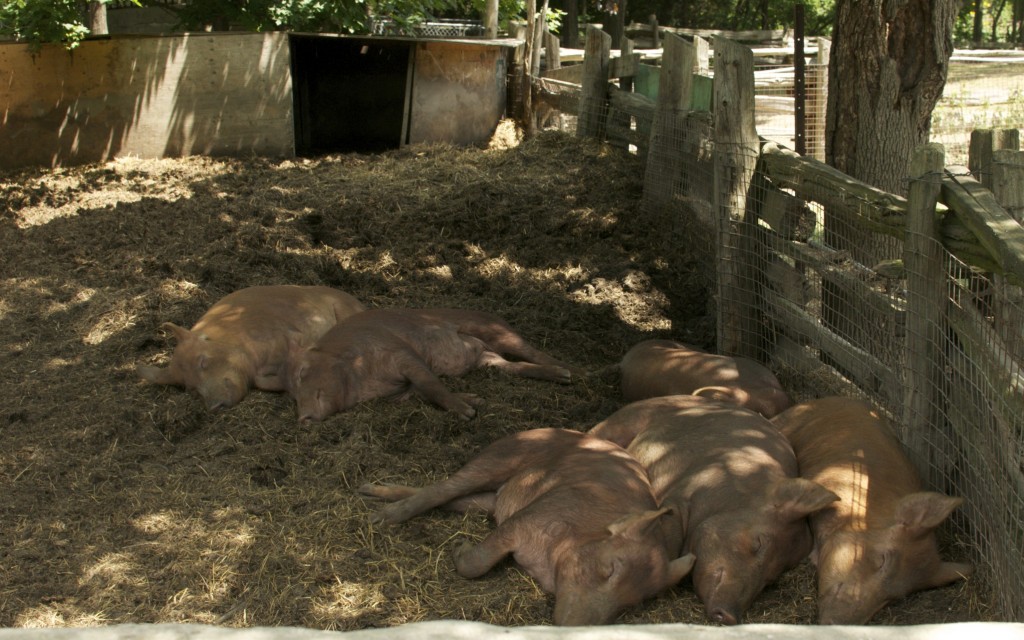 We had a great bunch of farmers take us on a tour of the farm, telling us about their own practices as they went.  The pig farming information was particularly eye opening to me as we drive by many pork farms on the way to Ryan's home town in South Western Ontario where I tend to ask obnoxious questions about the whereabouts of the pigs the whole way. No sign of pigs outside whatsoever, just big signs announcing pig farms, it's all very confusing. In comparison we also pass a real free range pig farm on the way to our farm where a slew of giant muddy pigs wander about, occasionally with an orange cat for company.
Stewart works on his family's farm with about 9000 pigs and gave a great description of "full circle farming" where the farm produces the grain to feed the animals whose waste fertilizes the grain.  This particular farm raises pigs from birth, through nursing, to "finishing" and then sends them offsite to the abattoir, where experts give them what sounds like a humane end. If you check out his twitter feed there are some great photos of pigs outside including some escapees. A major point I left with was that the standards the farmers have to follow in Ontario are quite strict and quite high. I've come across this in researching our barn as well. Everything from the amount of space allotted to each animal to the origin of the grain used for feed is regulated. Regardless of your personal decision if you will eat this animal of not it's important to understand the farmers have a vested interest in treating their animals well and keeping our food supply safe.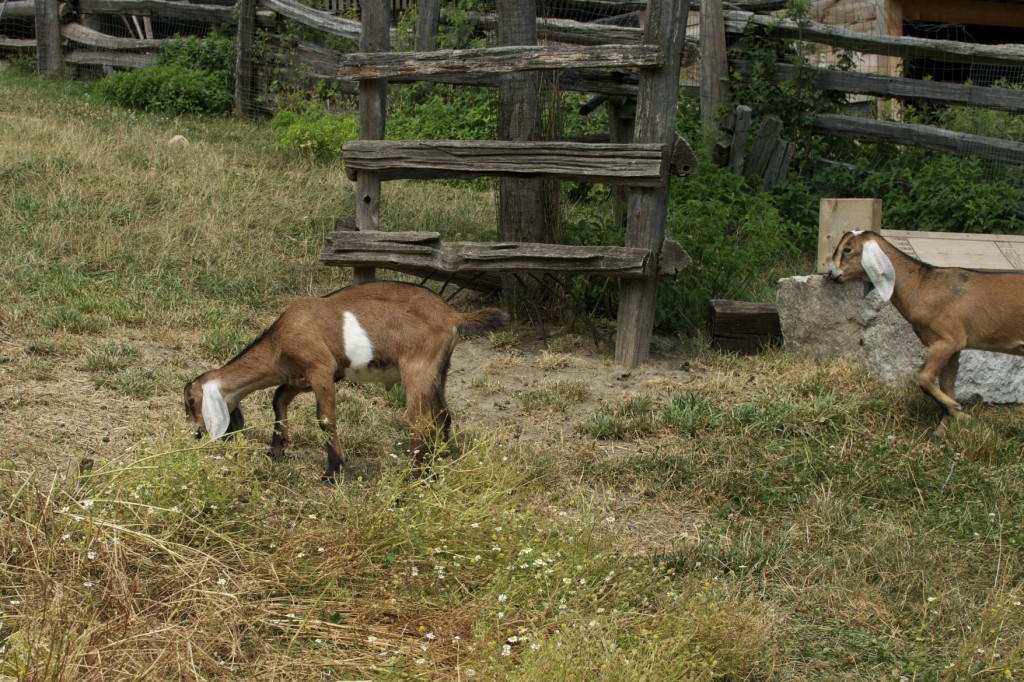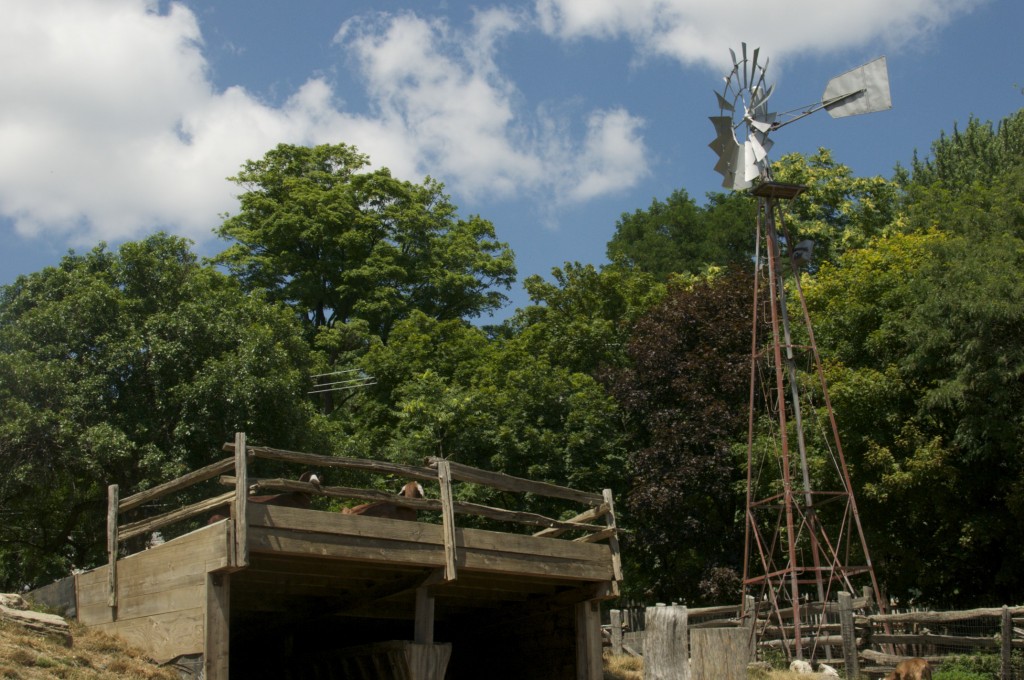 Next we heard from an egg producer who was telling us where his 11,000 chickens ended up after their careers ended just when Rebecca started working on letting all the chickens out. Then on to talk dairy cows and goats, basic lactation and a good explanation of the corn fed beef that's being heavily marketed at major grocery stores right now. Even though I think it's important to be well informed on the subject, meat isn't exactly my favourite topic of conversation, so I was happy when we moved on to the market vegetables and Riverdale Farm's great raised bed gardens.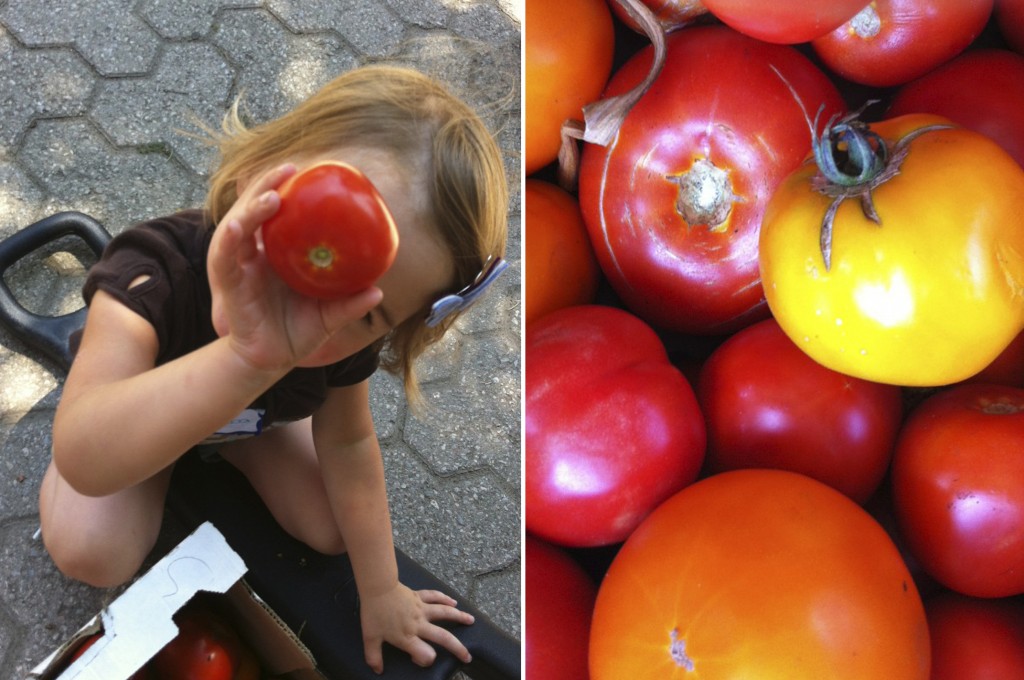 Our last stop was talking to Jason and his family from Carron Farms.  They are 3rd and hopefully 4th generation farmers, farming the original land their dutch ancestors settled on in the Holland Landing, some of Ontario's richest farm land. We discussed the diversity in the foods grown for the Ontario market, everything from asian eggplants to the original colours of carrots. They provided most of the toppings for our pizza lunch which we then cooked to perfection in the wood burning pizza oven. Lunch was served along with some lessons in peeling fresh garlic and keeping leafy vegetables and herbs fresh by pulling them from the garden with their roots attached and storing them in water. I think we'll be building a brick pizza over sooner than later and planning a visit to the Verkaik's diverse farm next spring. I'll be posting some recipes using their produce in the next few weeks.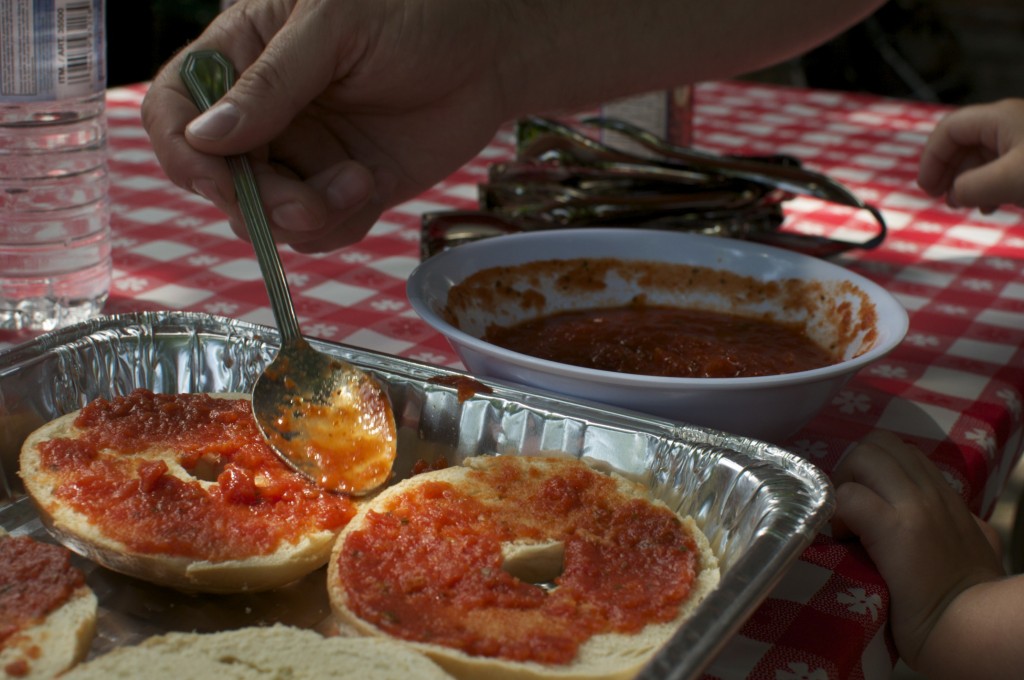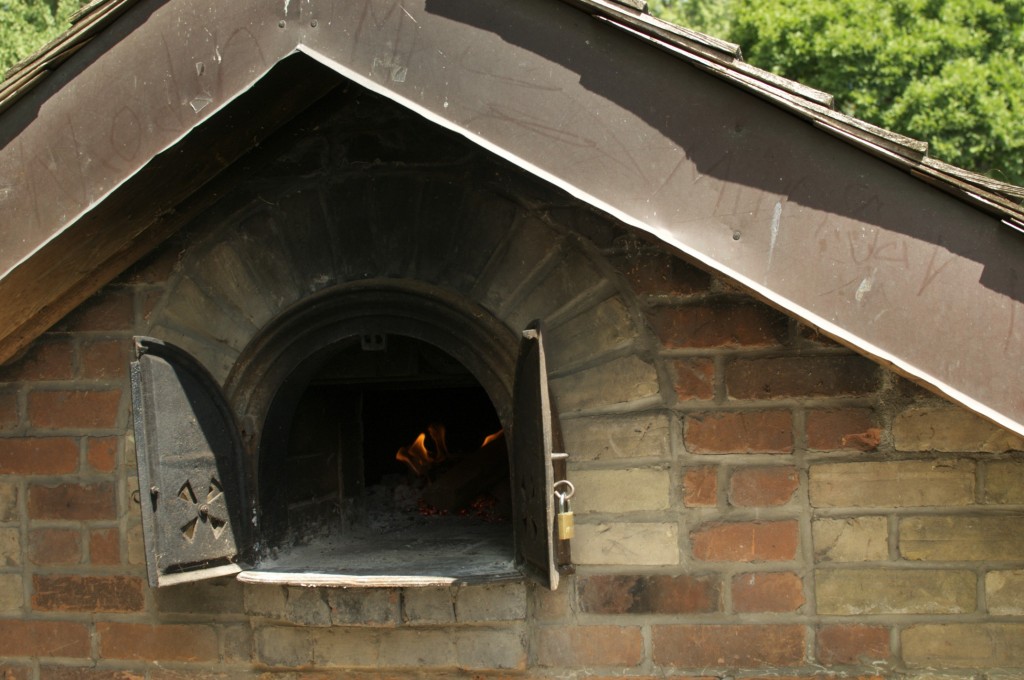 As bloggers and farmers mixed, there were great conversations about goats, bees and Agricultural University Degrees. We learnt that 98% of Ontario farms are family owned and operated, about average farm size and how it's growing (thanks for not laughing at our intimidating 14 acres), and lots of talk of all the non-farming farm skills required to run a farm (like pluming and accounting).  Since I am easily befriended with Ontario garlic and fresh purple onions, especially when combined with an arm load of fresh basil we had a great end to our visit.