Great Canadian Food Experience: My Cherished Canadian Recipe for East Coast Fish ChowderRevisited
Great Canadian Food Experience: My Cherished Canadian Recipe for East Coast Fish Chowder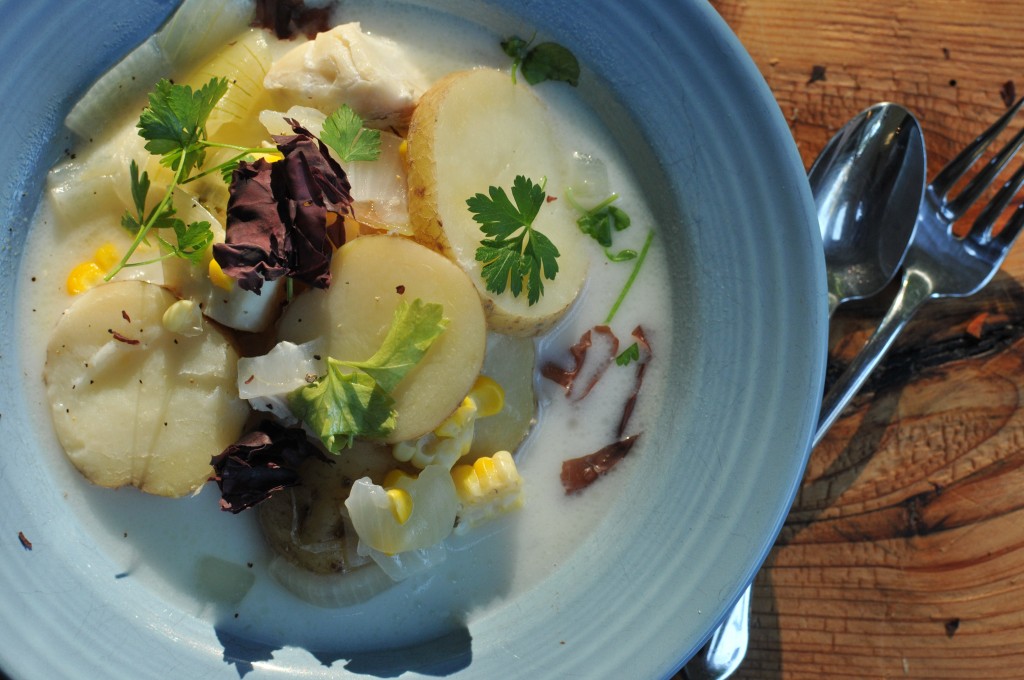 I've written about fish chowder before but as it really is my cherished Canadian recipe I'm revisiting it as this month's contribution to the Great Canadian Food Experience Project.  One of the hardest things about having to drastically change your diet is suddenly all your favourite recipes fall out of rotation. Sure you want to tweak it to make it work for your family again, but it's hard to find time to experiment or research when what you really need to do is put dinner on the table.
I've taken this months Canadian Food Experience as a challenge to "fix" my family's cherished fish chowder recipe.  It's pretty great as it is but that can of evaporated milk that generations of my mother's family have been using to feed their babies and make chowder with just wasn't agreeing with us anymore.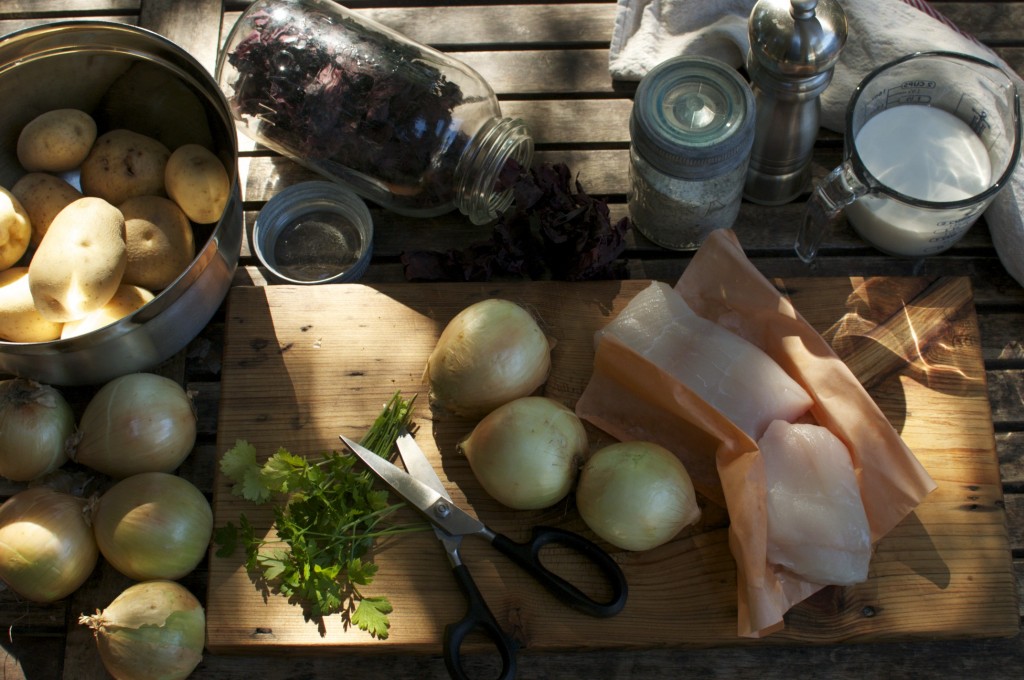 Onions 1 per serving (I do 6)
Potatoes 1 per serving  (6 again)
Fish that starts with H (Halibut, Haddock)
2 tablespoons of Butter or olive oil
1 Bay Leaf
Sea Salt & Ground Pepper
Boiling water
Corn 1 cob
1 cup of whole milk
1/2 cup large leaf parlsey
1/2 cup Dulse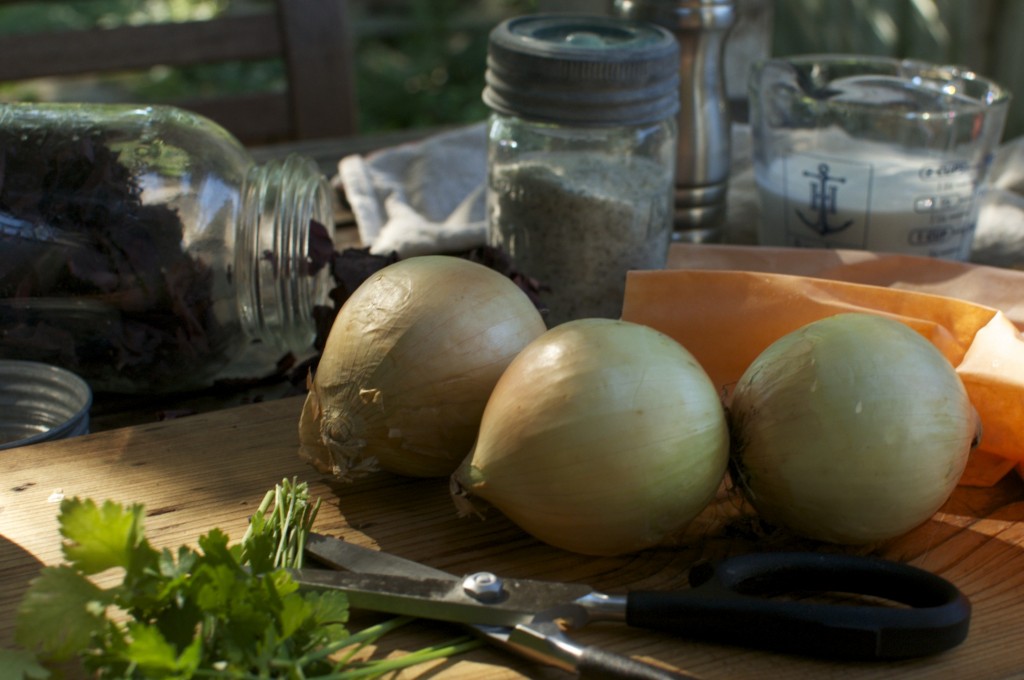 Prepare by putting your tea kettle on to boil. We'll be adding all the ingredients into a thick bottomed soup pot.
Start by frying up finely chopped onions in butter or olive oil.
Cook them gently on medium heat until they are transparent.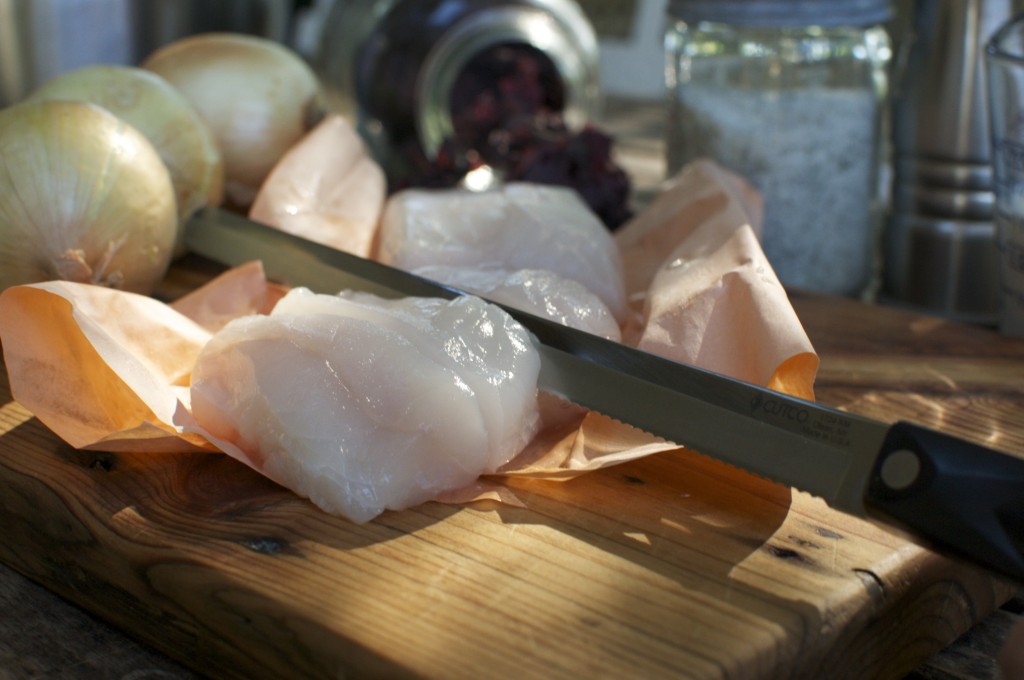 Chop your fish up into 1 inch cubes. Throw it in on top of your cooked onions.
Next, slice up your potatoes and throw them in.
Cover with the now boiling water from your kettle and add salt, pepper and a bay leaf.
Bring to a boil and then simmer for 25 minutes. Keep your pot simmering while you add the final ingredients.
Now add your corn and one cup of whole milk. Turn off the heat, stir and wait five minutes before stirring.
Add a bit of chopped large leaf parlsey and a handful of chopped dulse as a garnish.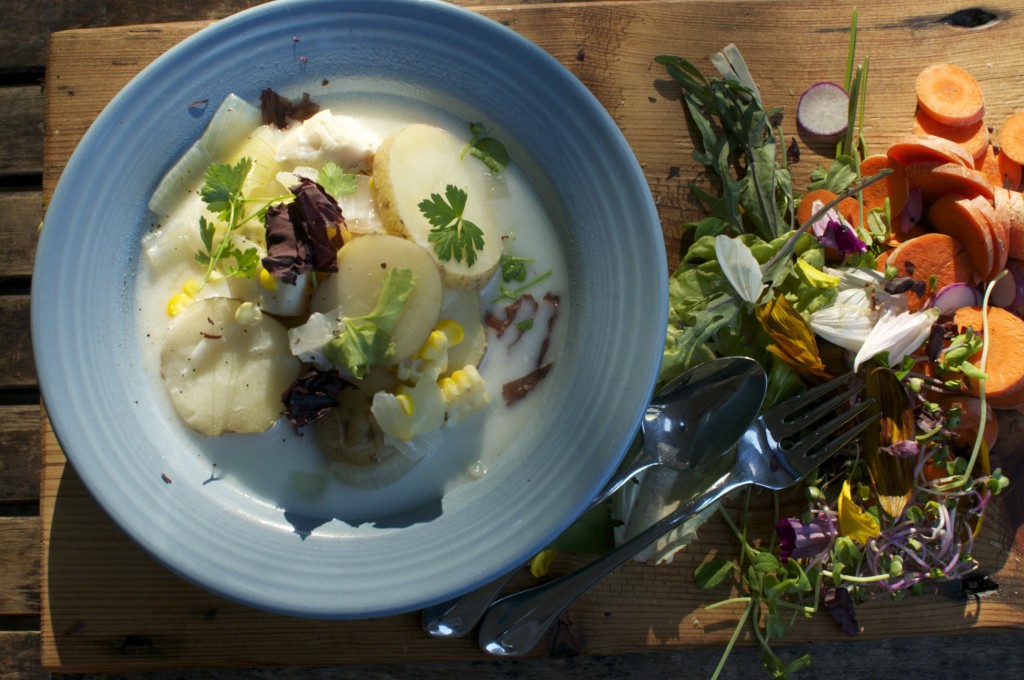 We used to serve chowder with bread but now in our post-gluten house we're enjoying salad made with greens and petals from Kind Organics. Check out Kind Organic's Farm Raiser, like another small agriculture business I know, they've out grown their space and are looking to grow on their own farm. Here's the link: http://kindorganics.com/farm-raising/ 
 [amd-zlrecipe-recipe:4]
Tags: chowder, dulse, fish, Great Canadian Food Experience, halibut, soup