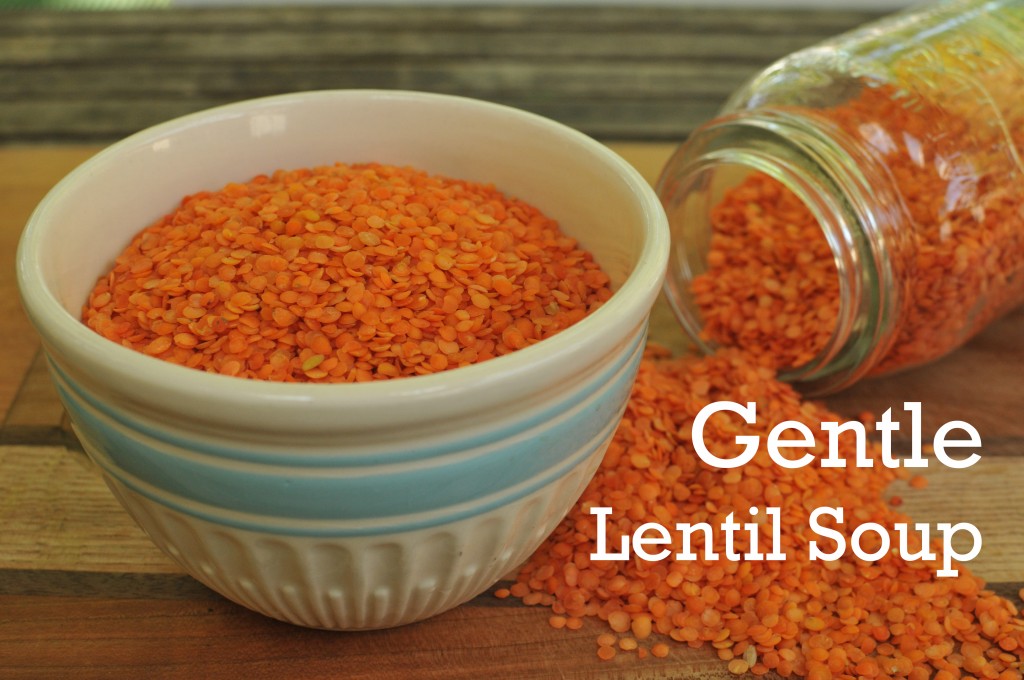 As a recovering vegetarian, Mollie Katzen's Moosewood Cookbook is in regular rotation around here.  When I'm in a panic and don't know what to make for dinner I often make this from-memory, tweaked-for-my-family version of her Lentil soup. It's really simple since it only uses one pot, takes one hour and you don't need to presoak the lentils.
In addition to being delicious, lentils make a such a nice naturally iron rich first food for babies. This soup was one of baby Robin's first solid foods around the middle of his first year and he gobbles it right up off a tiny vintage baby spoon every time I serve it.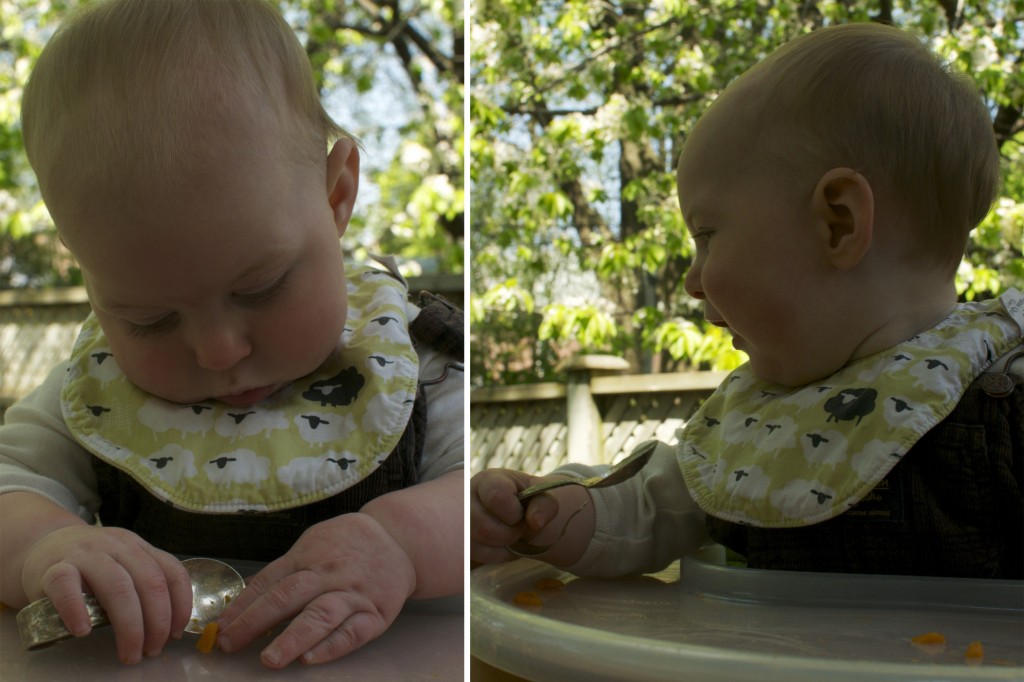 3 cups of dry red Canadian lentils
8 cups of water (sometimes I use a cup or two of chicken stock if I have some around)
1 glug of olive oil
2 stalks of celery with leaves
1 peeled yam
3 peeled carrots
8-10 cloves of garlic
2 large shallots or onions
1 bay leaf
2 teaspoons of sea salt
1/2 teaspoon of thyme
1/2 teaspoon of freshly ground pepper
red wine vinegar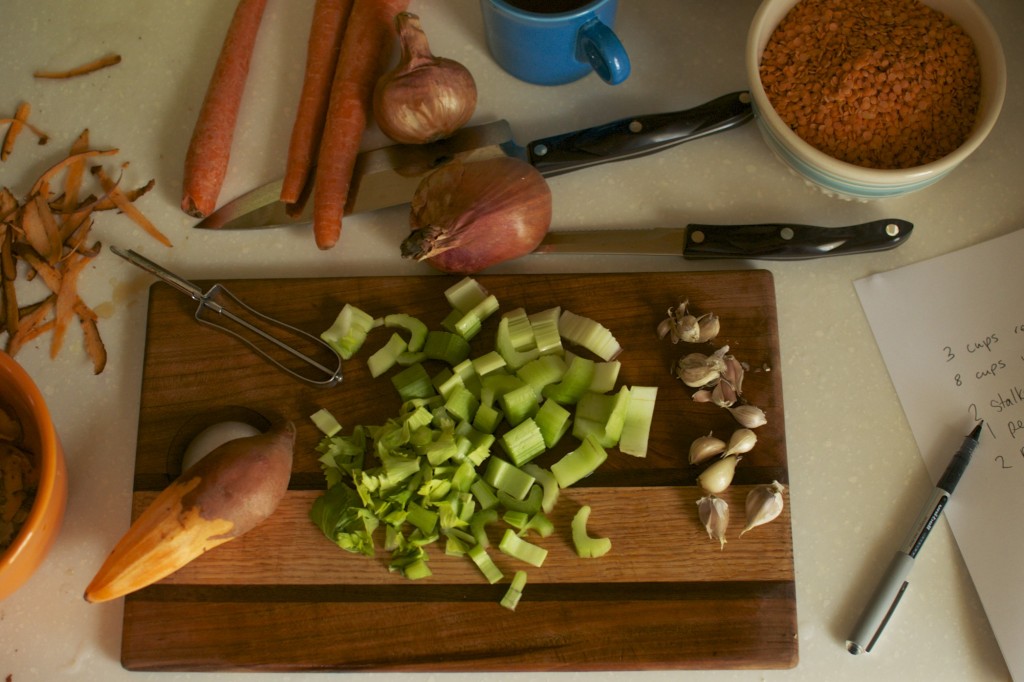 Start by giving your lentils a quick rinse and strain under cold water.
Then combine your lentils, water, olive oil and salt in a large thick bottomed pot and bring to a boil. Once things are boiling, lower the heat to the lowest setting, cover and gently simmer for 30 minutes.  While the lentils are cooking you have plenty of time to prepare the rest of the ingredients and remind your children to use gentle touches.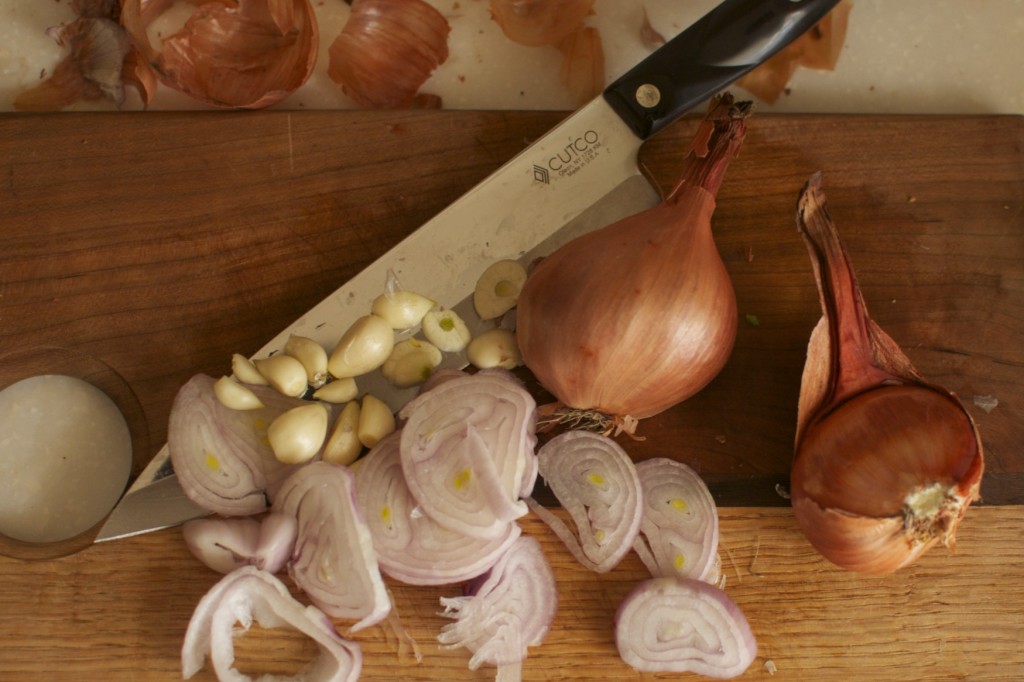 Now you start your chopping. Soup is pretty much all about chopping.  I have some new cutco knives and I have to say having the right knives has greatly improved my mood while making dinner with littles at my feet or on my back.
I cut all my veggies into slices and then smash the 10 cloves of garlic with the side of my knife before cutting it finely. I like to think that the more garlic and onions in a recipe, the more love. The more smashing of garlic, the more fun.
After your lentils have been simmering slowly for 30 minutes you can add all your chopped up vegetables and herbs. Turn the heat up a little bit and gently cook, partially covered for another 30 minutes.
When you're ready to eat, drizzle the top of each bowl with red wine vinegar and enjoy.